Home | Hobby One | Hobby Two | News | Project1 | Elephant
Music | Michael Jordan | Dwayne Wade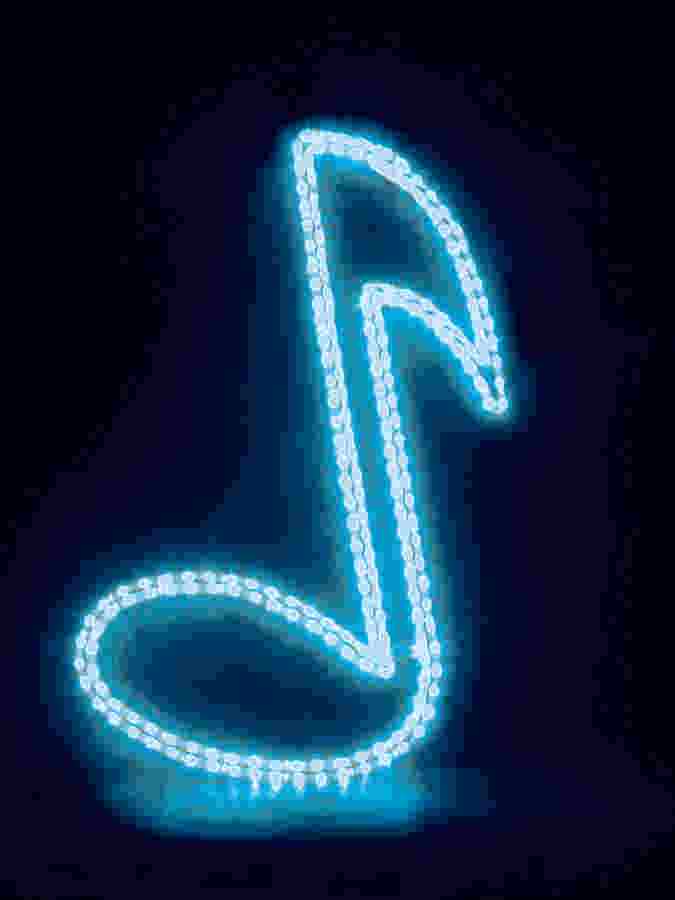 My name is Cristian Dejesus. I am 26 years old. I was born in the city of New York and my parents were born in the Dominican Republic. I lived in Dominican Republic for 4 years beginning when I was 10 and then came back to the states and lived in massachusetts until I moved to Miami in 2004.
I have two sons, Cristian Jr. who is 8 years old and is now in the 4th grade and Adrien Ryan who is 1 year old and has been walking since he was 8 months and is saying a different word every day.
I live in Miami and am attending Miami Dade College hopefully to earn an AS in Music Business under the Creative Production option. I am currently two semesters away from graduating.
I currently work at Best Buy as a sales supervisor. I am in charge of the wireless, car audio and digital departments at the Cutler Bay store.
One of my favorite hobbies is listening to music. I enjoy basically every type of music but mainly hip hop and r&b.

---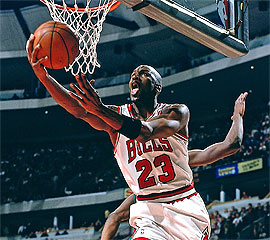 Jordan burst into the big time with a fabulous first season, earning the NBA Rookie of the Year Award in 1984-85 after averaging 28.2 points per game. An injured foot sidelined him for 64 games in his second campaign, but he came back late in the year to score an NBA playoff-record 63 points in a first-round game against the Boston Celtics. Starting with the 1986-87 season he began a career-long onslaught on the NBA record book. That year saw him average 37.1 points in the first of seven consecutive seasons in which he led the league in scoring (a feat matched only by Wilt Chamberlain) and topped 30 points per contest. By the time he announced his retirement in 1993, he had earned three league MVP Awards, an NBA Defensive Player of the Year selection, a pair of NBA slam-dunk championship titles, seven berths on the All-NBA First Team and six selections to the NBA All-Defensive First Team. He also led the league in steals three times. A nine-time All-Star Game selection, he earned the game's MVP Award in 1988 after a 40-point performance.
More than just a scoring machine, Jordan also showed that he was a leader and a winner by guiding Chicago to a trio of NBA Championships. As a rookie, he joined a Bulls team that had won only 28 games the previous season. By 1991 the club had topped 60 wins during the regular season while marching to the first of three consecutive titles.
If anything, Jordan was even more spectacular in postseason play. Prior to his retirement he had averaged below 30 points per game in the postseason only once (29.3 ppg in his rookie year). In the 1985-86 postseason he poured in an astounding 43.7 points per contest. He left basketball temporarily in 1993 as a three-time Finals MVP, and he owned a career playoff average of 34.7 points per game, the best in NBA history. He also had two Olympic gold medals to show for his participation on Team USA in 1984 and 1992.

---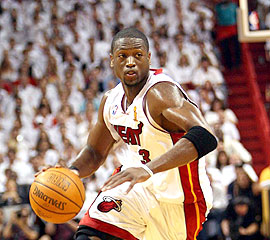 Full name is Dwyane Tyrone Wade, Jr…nicknames include "D. Wade" and "Flash"…was dubbed "Flash" by teammate Shaquille O'Neal…he and his wife, Siohvaughn, have a pair of sons, Zaire and Zion…has an official website – www.dwyanewade.com...lists his sister, Tragil Wade, as the person he is most thankful for because she helped raise him growing up…was a broadcasting major at Marquette…entered Marquette as an NCAA partial qualifier in 2000 after graduating from Richards High School in Oak Lawn, IL, but registered a 3.0 GPA as a second semester sophomore…had his number (3) retired by Marquette on Feb. 3, 2007…says his dream is to "leave the world a better place than I found it"…to that mission the Wade's World Foundation has a goal of providing support to various education, health and family service programs, in particular those that benefit underserved communities…shared USA Weekend Magazine's 15th Annual Most Caring Athlete Award in October of 2007 with Phoenix Suns guard Steve Nash…has twice been honored with the NBA's Community Assist Award (August of 2004 and August of 2007)…in August 2007 he hosted "A Week of Wade's World in South Florida", a week-long series of events that touched hundreds of South Florida kids…the week-long event included a basketball camp, fulfilling the dreams of Make-A-Wish children, a reading event and a school supplies shopping spree for local children…has partnered with the Make-a-Wish Foundation on several occasions to brighten the lives of deserving children…provides 10 tickets to each home game to various kid-focused organizations in the community…hosts an annual Christmas party for over 250 youth in the Dade and Broward area…hosts a three-day free camp for over 600 kids in his hometown of Robbins, IL…while sidelined with a shoulder injury in April of 2007 made a surprise appearance at Miami Children's Hospital to watch the Miami-Detroit game with 75 children staying at the hospital…received the Father of the Year Award in June 2007 from the Father's Day and Mother's Day Council. Inc…in June of 2006 he chartered two buses to take 100 children from Miami for "Wade's World at Disney" where the kids enjoyed a day at the park for free and attended the parade honoring Dwyane and Udonis Haslem celebrating the HEAT's 2006 NBA championship

---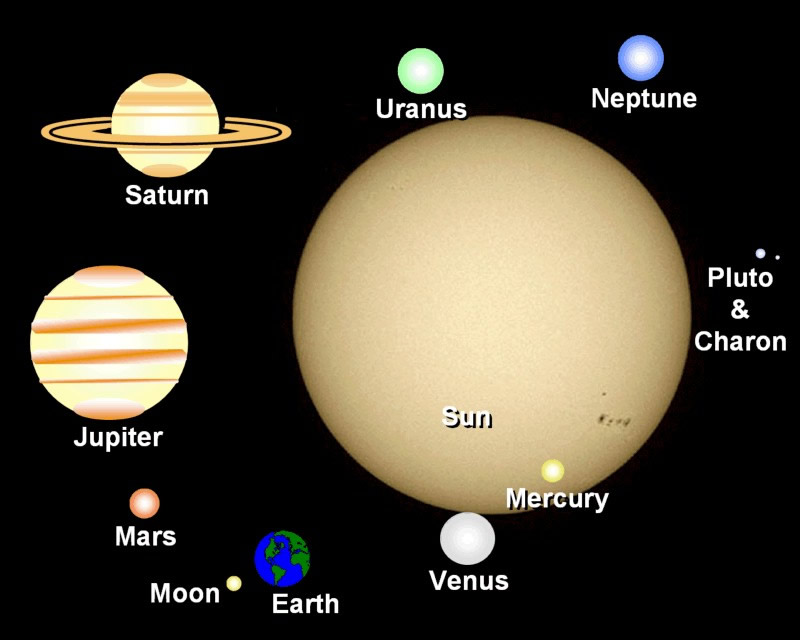 Forms